Areivut Commitee
The Etz Chayim Areivut Committee
The Etz Chayim Areivut Committee is an umbrella committee and focal point for the community support and social justice work we do at Etz Chayim.
Areivut (עריבות) translated from Hebrew, means "responsibility" or guarantee -- responsibility to one's community and responsibility to the world. We live in a time of intense individualism. Jewish tradition points towards seeing ourselves as part of a large whole and that we are jointly responsible for one another. Our tradition expresses this in a simple story

"The people of Israel are similar to a ship. If there is a hole in the lower hold, one does not say, 'Only the lower hold has a hole in it.' Rather they must immediately recognize that the ship is liable to sink and that they care for one another. If one of us in trouble, we must all join together to repair the hole. ((Tanna De Bei Eliyahu Rabbah Chapter 11)
The committee is comprised of a Chairperson, Rabbi Koritzinsky and leaders of independent "impact teams" that formulate team agendas and drive outreach and action in their areas. The Areivut Committee meets regularly and includes the impact team leaders and members at large. Currently we are focusing on these issues in the diagram below. We are contantly evolving so that we can continue to focus on emerging issues.
Rabbi Chaim Koritzinsky is the advisor to the committee.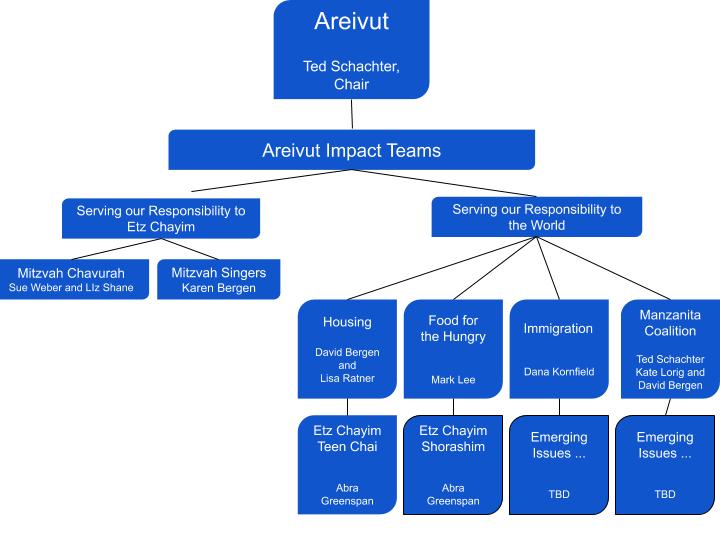 More about the Areivut impact teams - what they do and who to contact for more information:
Serving our Responsibility to Etz Chayim
Mitzvah Chavurah
One of the first "committees" formed by our congregation, Mitzvah Chavurah has been serving up meals and supporting congregants at shiva minyanim for 25 years. Mitzvah Chavurah consists of congregants on a Google-list, who are willing to sign up to help other congregants as needs arise. Mitzvah Chavurah volunteers might give rides to services, deliver home-cooked meals, run errands or do shopping for someone who is ill and unable to, or call and/or visit someone isolated at home.
If you are interested in volunteering with Mitzvah Chavurah, contact co-chairs Sue Weber or Liz Shane. You can subscribe to the Google-list through the Etz Chayim office.
Mitzvah Singers
The Mitzvah Singers rehearse multipart Jewish music and music composed by Jews to perform through concerts at local nursing homes, as well as through small group visits when members are in the hospital or at home and can't travel to services.
For more information contact the Mitzvah Singers
Serving Our Responsibility to the World
Housing
The Housing Impact Team is working on initiatives to alleviate the housing crisis in our area, focusing on both short and longer-term initiatives to provide safe and affordable housing. We have worked on local efforts to provide safe parking for vehicle dwellers, advocated for local affordable housing, and alternative financing approaches to keep housing affordable.
If you're interested in joining us, please contact David Bergen.
Food for the Hungry
The Food for the Hungry impact team conducts regular fundraising drives for the Second Harvest Food Bank, and canned food donations for Ecumenical Hunger Project. In addition, we help organize the annual canned food drive at Kol Nidre.
To become involved with the Food for the Hungry impact team, contact Mark Lee.
Immigration
The Immigration Impact Team is partnered with Spark Church to support new Americans in the US. Together we have hosted speakers and sponsored joint events related to undocumented immigrants, sanctuary cities, DACA, and border Detention Camps. We are working to support refugee resettlement efforts in the Bay Area and to find meaningful ways to address the refugee crisis at our southern border.

If you're interested in participating, please contact Dana Kornfeld.
Teen Chai Tikkun Olam Projects
Etz teens in grades 9 through 12 have the opportunity to engage in hands-on tikkun olam projects & events with Etz teens in a social environment through Teen Chai. Teen Chai meets with Etz Director of Learning, Abra Greenspan. A sample of recent projects by Teen Chai include:
Assembling Holiday in an Envelope packets for Jewish patients in Bay Area hospitals as part of the Bay Area Jewish Healing Center outreach at Rosh HaShanah/Yom Kippur, Chanukah and Passover

Essential Heros Campaign - Joining a group of local teens who started Essential Heroes Campaign with the goal of showing appreciation to local essential workers. See @essentialheroescampaign on instagram.

Assembling gift bags with toiletries and treats for Shalom Bayit clients

Interfaith Teen Climate Program - Participating in this program sponsored by California Interfaith Power and Light with teens from other local congregations to learn about climate science and discuss and discover concrete actions we can take

Exploring post-COVID SIP volunteer opportunities through Youth First, a Jewish Family and Childrens' Services program.
For more information contact Teen Chai.
Manzanita Coalition - Community organizing
Etz Chayim is a member of the Manzanita Coaliton. Manzanita Coalition is a community organization comprised of a grassroots structure of voluntary civic institutions working together to improve the lives of Bay Area workers and their families. https://www.manzanita.works/manzanita_coalition

Founding Members include:
| | |
| --- | --- |
| CSEA Local 301 - California School Employees Association, Palo | SEIU UHW - United Healthcare Workers |
| Mountain View Los Altos District Teachers Association | University AME Zion Church of Palo Alto |
| Los Altos Teachers Association | Congregation Etz Chayim |
| Palo Alto Educators Association | Mountain View Tenants Coalition |
| Mountain View Day Workers Center | Teacher Association Ravenswood |
| St. Mark AME Zion Church of East Palo Alto | |
If you are interested in more information about the Manzanita Coalition, contact Kate Lorig.
Mon, August 10 2020 20 Av 5780